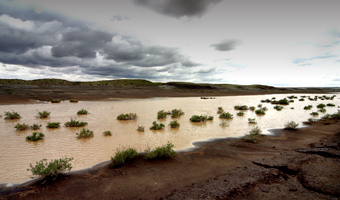 The arid regions of Southern Africa have several rivers that, on average, flow once in a decade after very good rains. Within days after the rains, the rivers form ephemeral pools and slowly turn into dry river beds again. 
The Bushmen living in these areas believed that, although the surface of the rivers may be dry, water still flows beneath the sands. They have not only survived, but lived on these secret waters for ages.
Such an area where shallow groundwater exists, is called an OSHANA. pronounced :  [ oh! shja-na ]
The largest single example of such an oshana is probably Lake Oponono in the Oshana Province of Namibia. Although this lake is fed by seven rivers, it seldom has surface water.