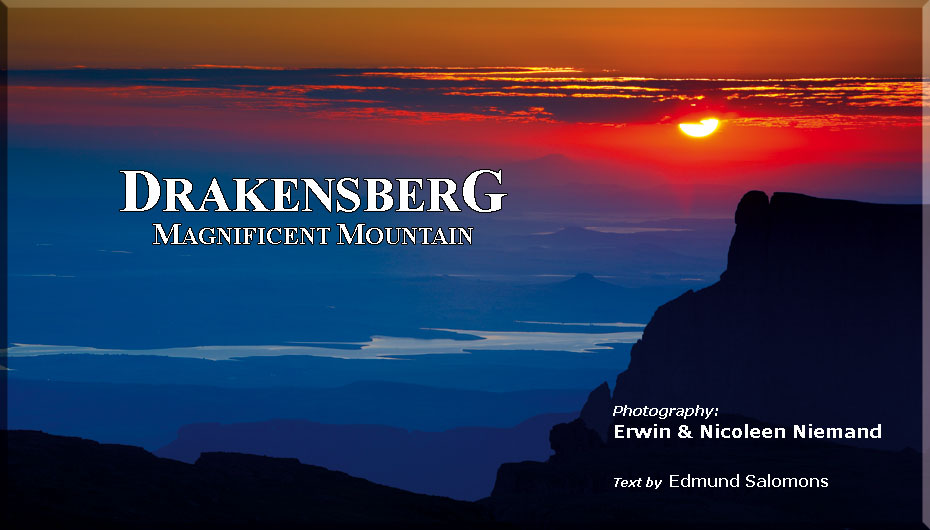 "DRAKENSBERG - Magnificent Mountain" is a coffee-table book that covers the region which we as visitors and inhabitants of this area have come to know as the "Drakensberg".
Erwin & Nicoleen Niemand spent three years in the Drakensberg capturing the ever-changing beauty of this mountain range - from its astonishing flowers in the lush green valleys to devastating lightning and thunder on its summits, sounding waters and calm vistas. The chapter titles of this book: i.e. "The 'Berg", "Irresistible Summits", "The Dragon's Fury", "Sound of Water" and "Everlasting Beauty" were born during these explorations. The picture captions were also written by the photographers.

Photographers' notes:
"Soon the irresistible summits became haunting peaks. The Dragon's fury was let loose and we were continuously subjected to its petulance."
"... we were silenced by the deafening sound of rushing water."
"...spending time with this Dragon also meant enduring its every possible mood..."
"...we even found ourselves being dragged in and out of this Dragon's lair."
"But time after time, whenever the eastern horizon was touched with gold and the sun rose in all its splendour, we were once again overwhelmed by the everlasting beauty and majesty of this magnificent mountain."